14 days of Unlimited Classes
Yoga, Pilates, Barre and Aerial Classes at our St Marys and Penrith Studio

 



Join Now for just $22
About Nin Yoga
Established in 2017, Nin Yoga has (and continues to be) one of the most recommended and loved yoga studios and community in Western Sydney. Not only do we host regular weekly yoga and movement classes, which is what is included in this pretty darn radical trial deal, but we also offer beginner courses, workshops, retreats and Teacher Trainings.
How can we help you?
We get it. Life can be A LOT. We are juggling all the plates and then some. When and even how do we make the time for our own self care?
Well, first and foremost we need to push it up our priority list and make it a habit, and how can we do that?
BY STARTING! 
Leaving the house to start a new form of exercise is by far the hardest part of this journey. Once you walk through our doors however, we promise to do the rest.
Sign Me Up!
What results can you expect?
If you can manage to fit in at least 2/3 classes a week during your two week trial with us (the more the better, but its a great place to start), you may start to notice:
Improved mood: Regular exercise and yoga can stimulate the release of endorphins, chemicals in the brain that promote happiness and reduce stress and anxiety.
Increased energy levels: Engaging in physical activity can boost your overall energy levels and reduce feelings of fatigue (so less brain fuzz!)
Better sleep: Exercise and yoga can help regulate your sleep patterns, leading to more restful and refreshing sleep.
Enhanced flexibility and balance: Yoga, in particular, can improve your flexibility and balance over time, reducing the risk of injuries and improving posture.This also means less sore back, hips, shoulders neck, just all the things we can get doing repetitive tasks at work.
Strengthened muscles and bones: With regular exercise, you'll notice increased muscle strength and even improvements in your own bone density.
Weight management: If combined with a balanced diet, regular exercise can contribute to weight loss or weight maintenance, leading to better overall health so we can be here longer in this wonderful thing called life.
Improved cardiovascular health: Exercise can strengthen your heart and improve blood circulation, reducing the risk of heart-related diseases. Bring on those stairs!
Lower blood pressure: Regular physical activity can lead to a reduction in blood pressure, promoting better heart health.
Enhanced focus and brain function: science has linked Exercise to improved cognitive abilities and increased focus and concentration. Something alot of us need in these days of information overload.
Stress reduction: Both exercise and yoga can help alleviate stress and promote a sense of relaxation.
Boosted immune system: Regular physical activity can enhance the immune system, making your body more resilient to infections and illnesses.
Finding community: A personal favourite is of course the fact that going to a class, in a studio, with other adults, creates somethings very special indeed. This is connection via new friendships, as well as a safe space withing our walls, to just be as you are, with nothing to do and no where to be (and no one needing anything from you, at least for 60 mins!)
What's included in the 14 day trial?
Our trial includes 14 days of UNLIMITED classes at both our St Marys and Penrith Studio, in Yoga, Pilates, Barre and Aerial Classes. You will also have the opportunity to book into our livestreamed classes. These are filmed via Zoom at our studio, which can be done from the comfort of your own home.
Sign Me Up!
Our Sankalpa to you
Sankalpa is a Sanskrit word (ancient language often used in yoga) meaning "intention". Sort of like a spiritual promise, we would love to make a Sankalpa to you.
After doing this 14-day trial at Nin Yoga, we promise you will feel better, be better and do better. For those you adore the most, and for the most important person of them all… YOU.
Annika Saigi
Daniel Nunnari
Karen Gruber
Alaina Scutts
Mihaela Zotta
Katie Hathaway
Paige Lamb
Charlotte Valentine
Kind words from our community:
"A cozy and welcoming space that has become one of my happy places. You can walk through the door and any stress of the day just automatically disappears.
I've been a student at Nin Yoga for over 4 years and I love the variety of the teachers and class at both the St Marys and Penrith Studio."
-Robyn
"Doing yoga is a really important part of my physical health and my mental health. I can not recommend it highly enough, particularly if you are missing that extra something to help keep you balanced and full of life"
- Gavin
This is for you if:
Feeling like there are just way too many spinning plates?
When you finally have free time, are you spending it on the couch binge watching Netflix?
Lacking motivation to get out of the house and do something to better your physical and emotional wellbeing?
We promise that the hardest part about your wellness journey is getting into those fancy pants and making your way to our studio.
We will do the rest. Just get out that door (with pants), walk through our doors, and we will be there to support you the rest of the way, from where to put your shoes, lay down your mat, and when to take a nice big inhale, and a long and deep exhale.

For $22, you get an unbeatable deal. 14 days of unlimited classes at both of our studios, in all of our class types, such as Yoga, Barre, Pilates, Aerial Yoga and Lyra. No catch. No contract. No nothing.
Just simply sign up via our booking system "Mindbody". You will be asked to create an account and sign an online waiver. Once thats done, you can start booking in as many classes as you like.
You will have 14 days of consecutive classes that you can book under the trial, and the trial starts simply from the first class date you wish to start.
Sign Me Up!
Cara
"I loved Nin Yoga from the moment I walked in. Such a warm, welcoming space. I love the variety of classes, and the teachers are awesome. So kind and welcoming. I look forward ot every class I attend at St Marys and Penrith. They have created something special. I highly recommend Nin Yoga. Legends!"
Samantha
"I keep on coming back. I love the space, I love the teachers, I love the colors, and I love drinking tea with other students after. I love connecting with people. It's a beautiful, beautiful space, and it's really special to me."
Chris
"It's helped me with the management of lower back pain, with general motivation, and its been something I've enjoyed coming along to. It's been warm, friendly and welcoming and I would highly recommend Nin Yoga. I feel good!"
Vinyasa Yoga
Gentle Vinyasa Yoga
Yin Yang Yoga
Yin Yoga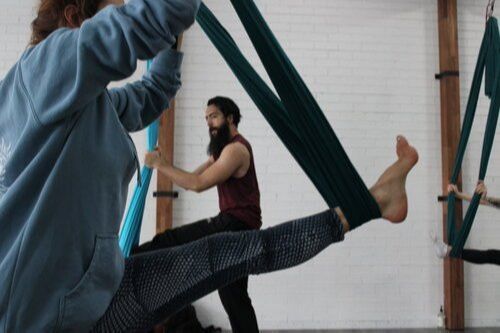 Aerial Yoga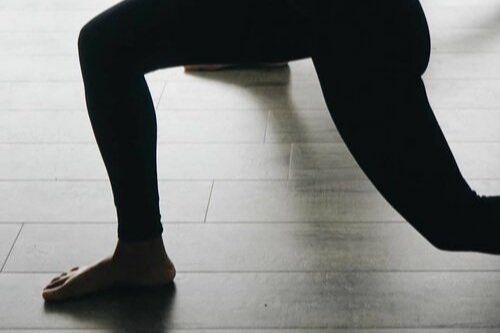 Pilates
Barre
Lyra (Aerial Hoop)
Frequently Asked Questions
I want to see your schedule first, where can I find it?
When will the 14 days actually start?
When can I start booking?
Are the classes beginner friendly?
What if I am late to class?
I've booked into a Zoom class, how can I find my Zoom link?
I'm pregnant or have a particular injury, can I still come to class?
How many people are in the class?
How many times can I sign up for the trial?
Are courses, workshops and Yoga Teacher Training included in the trial?